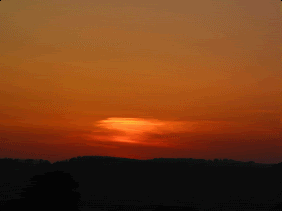 Good morning all friends..7:20 in the morning its evening or night were you are right now...the news had predicted rain today...but i can hear the birds singing the peace of the morning...had some issues happened yesterday...wich i just went to sleep and deal with them in morning ...i just went to the lord....where else?
i feel that the lord is closer to me than i can imagine his peace and trust are in my heart...after praying i understood that life is a big challenge..and how blessed is a person that have jesus in their life...he give us hope and courage to keep moving on.
feel really good today...he uses me to bring peace to others souls that are anxious and worried about how things are going in their life...and he let me see that when i am dealing with my own life i have to stretch out and help somone...
"Paul says that we should receive the weak man in order that we might support his weakness by our strength. Neither should we criticize his opinions by daring to pass judgment on someone else's heart, which we do not see
dealing right now with many things and i feel the love of jesus in my heart so deeply these days reminding me of his grace and what i went thrue as a single lady...and how he over the years has lift up my head..praise God!
can keep over and over again..of God goodness ...but i wanted to share some pictures wich are from last saturday was such a sunny day...
LITTLE TOUR OF SATURDAY
first went to arnhem central station to get myself a few papers i needed...i lost my year card to take the bus and needed to fill some papers so i might get a new one...was a whole issue cause i got that thrue my job so had to go to the police station and report that i lost it ...so they can blocked it ...someone might found it..but i pay every month for it..and has my picture on it...so case resolved!
really a sunny spring day at the mall people start taking of their coats as it start to get warmer and warmer most of you lived in holland (followers) so you now the weather is good these days the gentlemen walking on the picture just watching...lol
the more i walk the more it start to get busier and busier my son should meet me in a little bistro so we have some sandwiches...so im just making some time...i love to meet him in town its another feeling between mother and son ..doing nice things together..wich i dont get the chance the whole time he works and go to school i work..too
arnhem my home town i lived here like 27 years..lol huub told me more but i love this town..the lord has blessed me right here...my own choice wont be to live in amsterdam or rotterdam are big cities and tooooo busy ...im a arnhem footbal fan...football team vitesse...well honest i dont look at tv..dont have the time.but i support vitesse i love the team..my husband is really a ajax fan...
its too early yet so walking trying to get myself a summer bag...i saw a canvas one..i got a sms message of my son he will met me at 1 oclock
here it is..isnt it cute? i got the little purse too for pennies..same vintage too..and need the shoes also..also vintage..i will have to buy some t.shirts at the market...my summer clothes dont fits me cause i have got little weight but im working on it..so i guess this is it...
Hope you enjoy the little tour...we wont be home both of us untill 5 o clock...so enjoy your weekend...